---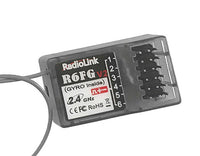 Sale
* Actual item is latest version V4 which support voltage as low as 3.0V up to 12V. This version is hard to find in the market.
- Compatible with
RC6GS
, RC4GS, RC3S & RC4G, 8ch T8FB.
- 400 Meters Control Distance
- Integrated Gyro: built-in gyro can keep the vehicle in a straight line, and Gyro sensitivity can be adjusted by transmitter, which fits for drifting and on-road cars.

- Superb Fast Response: high resolution ratio of 4096, stable signal output to provide a fast response for all channels, suitable for rc rock crawler, truck, buggy, drifting, etc.

- Press to Bind: No need old bind plug and any radio setting, only press bind button
for 1 second after power up radio and receiver.
Same FHSS* spread spectrum algorithm as AT9S and 67-channel pseudo-random frequency hopping help reduce overall signal interference.
Quick press of bind button 3 times within 1 second to toggle Gyro On.
Quick press of bind button 2 times within 1 second to reverse gyro direction.
Industrial chip ensures superior anti-sparks interference ability, random sensitivity of gyro will not interfere steering make RC4GS V2 well controlled even oil tanker.
Industrial grade anti-interference ability makes sure multiplayer compete at the same time.
12ms only from the transmitter to the receiver, thus provide control synchronous and performance perfect.
* Frequency Hopping Spread Spectrum offers three main advantages: signals are highly resistant to narrowband interference, are difficult to intercept and can share a frequency band with many types of conventional transmissions with minimal interference.
* Maximum range is tested in an unobstructed area free of interference.