---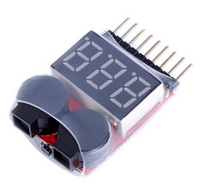 Never had to wonder again how low is your LiPo battery voltage or fear of damaging it by running it too low. 
Just plug this to the balance lead of your Lipo/Li-ion/LiMn/Li-Fe battery, set your preferred low voltage warning setting such as 3.3V per cell and this will sound the alarm when your battery drain hits 3.3V per cell.
- Use for 1-8s Lipo/Li-ion/LiMn/Li-Fe
- Voltage detection precision: 0.01V
- Unit voltage display range: 0.5V-4.5V
- Total voltage display range: 0.5V-36V
- 1S test mode voltage range: 3.7v-30v
- Low voltage alarm mode for 2-8S
- Alarm set value range: OFF-2.7V-3.8V
- When the voltage is below the set value, it will buzzer with red LED light, pre-set value 3.3V.Push key which can change the voltage settings and save.